San Jose Lunch with Agents
March 30, 2022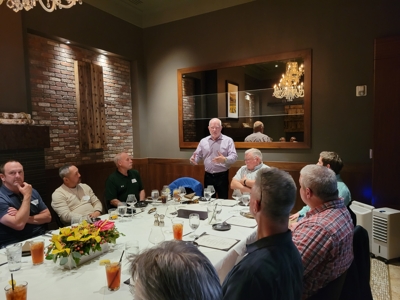 In a gesture of appreciation, Tom Elfmont, the esteemed leader of TDA, recently organized a special lunch gathering in San Jose. This event served as a tribute to the hardworking personnel who tirelessly safeguard the Bay Area's media, executives, residences, and offices. The event was a testament to the strong bond between Tom Elfmont and his exceptional team, showcasing his unwavering support for their tireless efforts.
TDA, operating in the Bay Area, has garnered a stellar reputation for delivering top-notch security services. With an extensive clientele that encompasses media outlets, executives, residences, and offices, TDA's role in maintaining safety and peace of mind is indispensable. Their commitment to professionalism, attention to detail, and exceptional customer service has made them a trusted partner in the region.
It was a well-deserved break from their demanding routines, allowing everyone to unwind and enjoy each other's company. The lunch provided an opportunity for the team to connect on a personal level and strengthen the bonds that make them an efficient and cohesive unit.
Tom Elfmont's initiative to arrange a lunch to celebrate and appreciate the TDA staff in San Jose reflects his understanding of the pivotal role they play in ensuring the security of various clients in the Bay Area.